David Roberts Memorial Lecture
Dr. Fadi Comair
Director General of Hydraulic and Electric Resources at the Lebanese Ministry of Energy and Water – President of MEDURABLE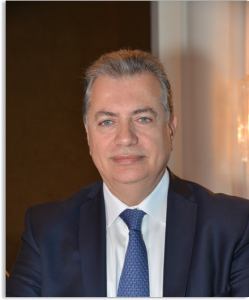 Title of Lecture:
The Nexus and Hydrodiplomacy:
new approaches to face global and climate future challenges in the MENA region
Date: Friday September 27, 2019
VENUE:
Imperial College Business School
Imperial College London
South Kensington campus
London SW7 2AZ
---
About Dr. Fadi Comair
Fadi G. Comair graduated from renowned American and French Universities and holds a PhD in Civil Engineering, Hydraulics and Energy Resources, as well as a diploma from Harvard University's executive program.
He started his career working with the French Government as the Head of the Industrial Technical Research Centers Department, and Member of the European Union Standardization Committee at the Ministry of Industry, and managed various European Technical Committees related to water and energy resources as well. Comair was then nominated Chairman of Lebanon's Litani River Authority in which he was in charge of managing development plans for the Litani River basin, including projects related to irrigation, hydropower, water quality control and hydrological data monitoring. He was subsequently appointed Director General of Hydraulic and Electrical Resources at the Lebanese Ministry of Energy and Water, where his work was marked by the initiation and preparation of the National Ten-Year IWRM Strategic Plan aimed at assessing and implementing long-term actions towards satisfying the country's water demand. As the president of the Lebanese Commission on Transboundary Waters he also played a major role in the resolution of conflicts over several transboundary watercourses in the Middle East such as the Orontes, Nahr El Kebir and Jordan River Basins, and published several articles and books on these subjects. He initiated the "Water Code" as an institutional reform of the water sector in Lebanon in coordination with the French government. One of his other notable accomplishments was the establishment of a national water resources data base department in Lebanon using state of the art technological and modeling tools
As part of other professional activities and achievements, he acted as the president of the Mediterranean Network of Basin Organisations (MENBO) from 2009 to 2011, developing important activities and partnerships to promote the integrated water resources management in Mediterranean water basins, including the sound governance of water resources. As a member of the Water and Energy Steering Committee of the Union for the Mediterranean (UfM), he initiated and actively contributed to the Strategy for Water in the Mediterranean that includes actions related to enhancing effective governance for integrated water resources management, adapting to climate change, enhancing drought and flood management, promoting water demand management including non-conventional water resources, etc. He also worked on the creation of a Training and Information Center for Water-Related Professions in collaboration with the International Office for Water and which is planned to be launched during 2018. Comair is also currently the vice president of the Euro-Mediterranean Information System on know-how in the Water sector (EMWIS) since 2003. Since 2015, he is a member of the UNESCO Advisory Committee of Experts on Water and Human Settlements. He also acts as a core partner in the envisioned UNESCO-IHP "ECOMED" Network initiative (Environmental Coastal Observatory for Mediterranean Eco-sustainable Development) which aims to monitor coastal ecosystem pollutions and effectively support local governance capacity building to alleviate environmental hazards and ensure eco-sustainable regional development. Since 2017, he is president of Med-durable, an association under which he organized yearly symposiums on 'Hydrodiplomacy and Climate Change for Peace in the Middle East' at the French Senate (Case of the Orontes Basin in 2015, case of the Jordan River Basin in 2016, case of the Nile Basin in 2017).
Other significant achievements include his active participation as an expert and as a leader in implementing national, regional and international activities related to informing, raising awareness and promoting the sound management of water resources. Namely, he was the Initiator of the "Beirut Water Week" series (a recurrent event held in 2005, 2009, 2010 and 2013), and through his strong commitment to professionalism through ethics he has intervened as a key expert and speaker in renowed events related to transboundary water resources and conflict resolution through hydrodiplomacy. For instance, he was interviewed as key expert as part of the French national assembly's official mission on the geopolitics of water in the Middle East. He also studied and reported on the impact of conflicts, namely the Syrian conflict and migration on the management of water resources in Lebanon and at the regional level. Moreover, he was involved in the preparation of studies and strategies related to the following themes: public private partnerships, water governance, water financing, climate change adaptation, the Mediterranean solar plan, the water-energy-food nexus, and non-conventional water resources. Recently, he was appointed as member of the jury of the King Hassan II great World Water Prize of 2018. Comair is also an active member of the Institut de Prospective Economique du Monde Méditerranéen (IPEMED) since 2008, the Ethics Academy in France since 2009, and since 2015 was appointed member of the French Water Academy which is a multidisciplinary, cross-sectoral think tank on various aspects of water resource management and uses in France, Europe and internationally.
At the academic professional level, he taught numerous courses related to IWRM, transboundary water resources, public-private partnerships and hydrodiplomacy. He also founded the Water, Energy and Environment Research Center (WEERC) at Notre Dame University and was a thesis supervisor and member of defense juries for a number of Master's and PhD theses related to water resources management and sustainable development at the national and international level.
He has received numerous distinctions in his home country as well as internationally including that of the honorary title of Diplomat, Water Resources Engineer (DWRE) by the American Academy of Water Resources Engineers (AAWRE). He has been decorated with the awards of  "Knight of the Legion of Honor " in France in 2016 and appointed as a member of the French Academy of Overseas Science in 2018. He is also the recipient of the Gaia Prize 2017 for environmental safeguarding and security in the Mediterranean, awarded by the Petrovitch Njegosh Foundation of Montenegro.
Comair has authored or co-authored more than 200 publications including books and articles related to water resources management, sustainable development, transboundary water resources and hydrodiplomacy.